After my first international trip with my Phantom 2, I have a few tips to pass on that may save you some headache in the airport or on the plane.
Get a case: 
My choice of case is absolutely ridiculous,  After trying several of the ~$200 cases on Amazon, I ended up finding the PERFECT solution at target: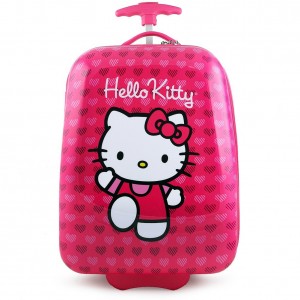 The Hello Kitty child's suitcase. Update (3/15): The "Hello Kitty" suitcase is no more, but they have the same shell re-branded for Teenage Mutant Ninja Turtles now. Maybe only slightly less embarrassing when walking through an airport.
While this case doesn't provide great support from the top and bottom, it holds form well, and provided enough support for me to feel safe throwing it into the overhead on the plane. Additionally, this little guy can also fit under the seat – so if you have bad luck finding overhead space on a plane, this is a perfect solution.
There is also an elastic strap on the inside that holds it in place – as if it was made for the Phantom II.
Put your batteries in a LIPO bags: 
I breezed right through security multiple times with all of my batteries and gear.  So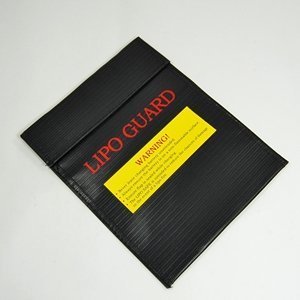 me airlines have regulations regarding LIPO batteries and how they are transported.  From my research, the safest bet is to bring them as a carry-on, in LIPO-safe bags.
You can pick these up from Amazon for a few bucks.
Don't split your gear up: 
When going through security, it is best if you have all of your gear with you. Don't try to have your wife take some of it through the TSA checkpoint. Here's why:
A guy with a quadcopter, remote, LIPO batteries, and camera gear is going to be less suspicious than someone ONLY taking two or three LIPO batteries onto a plane.  Of course this won't guarantee that you won't get hassled a bit, but in my experience, this has helped!
That's it for now. I'll maintain this page and add more tips as time goes on.