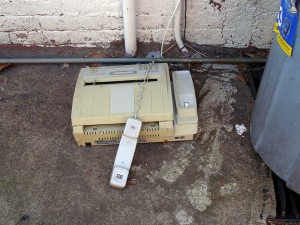 Last night I signed up for a free trial of eFax. I only needed to receive one fax, so the free trial seemed like a good option.
This morning, at 7:30am I started receiving calls from (323) 860-9200. I didn't answer any of them, and each call resulted in a voicemail about 30 seconds in length, of someone in a call center breathing.
I don't know what this is about, but there is absolutely no reason for this company to be calling me at 7:30am roughly 10 hours after I signed up for a FREE 30 day trial.
My amusing chat with them this morning:
You are now chatting with 'Stanley K.'
Stanley K.: Hello, David. Welcome to online Fax support. I am Stanley Kox, your online Live Support Representative. How may I assist you?
David: I've been receiving repeated phone calls from an eFax number this morning, since signing up for my free trial. 
David: What is prompting these early morning (7:30am) phone calls from your company?
Stanley K.: I absolutely understand your concern and sincerely apologize for the difficulty that you have encountered.
Stanley K.: We need to make verification to make sure that the accounts belong to the customer or not.
Stanley K.: If the account does not belong to you then we go ahead and close the account to avoid any future issues.
David: So, you need to do this in addition to all of hte information and valid credit card information I've already provided? 
David: no other company in the world that I've ever dealt with does this
Stanley K.: We are sorry, that you received the calls in the early morning.
Stanley K.: We will make sure that it will not happen again.
I think I'll just cancel. It isn't worth the early morning wake up call!