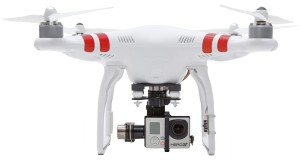 The same exact bundle that I've been using to create drone videos lately is on sale for about $400 cheaper than the price I paid. This is the Amazon deal of the day, so the deal only lasts 24 hours.
The DJI Phantom 2 Quadcopter V2.0 Bundle with 3-Axis Zenmuse H3-3D Gimbal for GoPro

is on sale for $683 (regular $1099).  Great deal for a solid and proven quadcopter.
Here some of the videos made using this set up (along with a Hero 3+ Black):