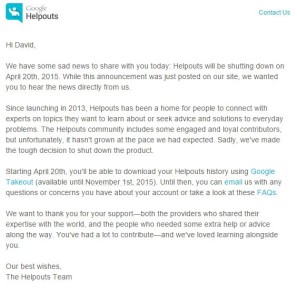 So long, Helpouts. We hardly knew ya. Google Helpouts,  the service that tried to put you face-to-face with a subject matter expert via Google Hangouts is being discontinued today, as stated in an email going out today.
Hi David,

We have some sad news to share with you today: Helpouts will be shutting down onApril 20th, 2015. While this announcement was just posted on our site, we wanted you to hear the news directly from us.

Since launching in 2013, Helpouts has been a home for people to connect with experts on topics they want to learn about or seek advice and solutions to everyday problems. The Helpouts community includes some engaged and loyal contributors, but unfortunately, it hasn't grown at the pace we had expected. Sadly, we've made the tough decision to shut down the product.

Starting April 20th, you'll be able to download your Helpouts history using Google Takeout (available until November 1st, 2015). Until then, you can email us with any questions or concerns you have about your account or take a look at these FAQs.

We want to thank you for your support—both the providers who shared their expertise with the world, and the people who needed some extra help or advice along the way. You've had a lot to contribute—and we've loved learning alongside you.

Our best wishes,
The Helpouts Team
Can't say I'm surprised, and I'm glad I didn't invest any time into this endeavor.