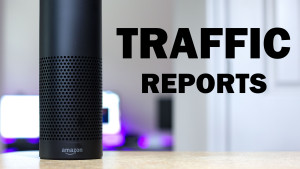 Amazon is slowly rolling out new features to the Echo, and today's update introduced traffic reports. The functionality as it is today is rather limited: You need to configure the to and from destinations in the app before she can give you a report – just ask "Alexa, how is traffic?"
And that is all she can do right now… just report on the traffic between those two locations. I tried asking about the "traffic to RDU airport" and several other locations, and the response was "I can not find the answer to the question I heard".
I find myself in the camp that appreciates frequent, steady updates (versus huge updates once a quarter), so I'm looking forward to the many feature additions the Amazon team will surely add in the future.
Here's a quick video of the traffic report in action:

Update (3/13/2015): Just saw the mail they sent out this update.  Apparently, they've also added a new Celtic Prime Playlist in time for St. Patrick's Day.